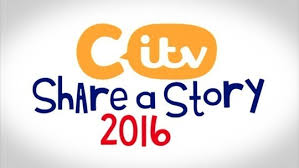 CITV's share a story competition is now open! Click on the link to take you to their site for entry forms etc.
http://www.itv.com/citv/share-a-story
To enter Share a Story 2016 you must be between the ages of 5 and 12 at the time of the competition closing date which is 6 pm on Friday 29th April 2016!
The only way of entering is by using the entry forms provided (HERE) on the CITV Website.
Share a Story 2016 has four age categories:
5 to 6 Year olds
7 to 8 Year olds
9 to 10 Year olds
11 to 12 Year olds
This year, there will be 1 winner and 2 runners up in each age categories!
Entries will be judged based on but not limited to:
Originality
Creativity
How engaging your idea is.
How well it can be adapted to a 1 minute animation.
Your entry forms must be hand drawn and you must be a UK Resident (inc Channel Islands)
All storyboard boxes and story writing areas must be filled in!
We can NOT accept group entries and you are limited to 1 entry per person!
In the event of more than one entry is submitted, only your first entry will be considered.
Entries can be received up to 6pm on Friday 29th April 2016.
---