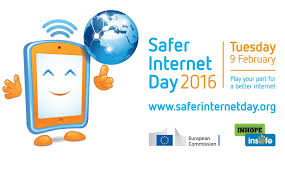 Units 1/2/3/4
4th February 2016
SAFER INTERNET CELEBRATION DAY
FRIDAY, 26TH FEBRUARY
2.15 – 3.15 P.M.
DINING ROOM/SCHOOL HALL
Dear Parent/Carer
On Tuesday, 9th February it is Safer Internet Day. On this day the children will be taking part in different activities about how they can 'play their part for a better internet', which is this year's theme.
To celebrate e-safety at Shawclough we would like to invite you along to school on Friday, 26th February to see some of the fabulous children's work and a selection of children will be performing. This event will take place in the dining room and school hall.
Friday, 26th February 2016
2.15 p.m. Doors open to parents to look at the work by the children in the dining room
2.30 p.m. Performances by groups from Units 1 & 2 in the school hall
2.45 p.m. Performances by groups from Units 3 & 4 in the school hall
We hope you can come and enjoy the important safety messages the children have learnt. If you have any questions please see your child's class teacher.
Yours sincerely
Vikki Rayment
Deputy Headteacher
--------------------------------------------------------------------------------------------------------------------------------------
INVITE TO PARENTS – SAFER INTERNET CELEBRATION EVENT
CHILD'S NAME_____________________________ CLASS_______________________________
I/we would like to attend the celebration event on Friday, 26th February 2016
SIGNED__________________________________ Parent/Carer