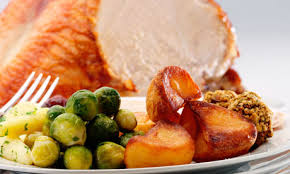 CHRISTMAS DINNER
DURING WEEK COMMENCING 14TH DECEMBER 2015
SCHOOL MEALS £10.00 PER WEEK
MONEY DUE IN SCHOOL BY 4TH DECEMBER 2015
As usual at this time of year our School Cook will be making a school Christmas Dinner. Many parents, whose children normally have packed lunch, like their children to join those who have a school meal at this time.
This year the Christmas Dinner will be served during the week beginning Monday 14th December. School meals are £10.00 per week, paid for on the Friday before the week of the meals. As we generally have a large number of children having meals during this week we have to order the food in advance therefore could you please send your school meal money into school by Friday, 4th December.
If you would like your child to have school dinners for that week please send this money in a named envelope as soon as possible, marked 'Christmas Dinner'. Below is the menu we will be enjoying this year. For more information please contact me in school.
Yours sincerely
Julia Sandiford-Mitchell
Headteacher
Christmas Dinner Menu
Vegetable Soup
Chicken Breast, Stuffing & Yorkshire Pudding
Roast Potatoes
Mashed Potatoes
Peas, Carrots and Sweetcorn
Or
Vegetarian Option
Desserts
Trifle
Christmas Pudding & White Sauce
Mince Pie